When Joe from Indianapolis first contacted us, he was beginning to think that planning a wedding in two months was impossible. After all, organizing an outdoor wedding and reception for 175 people is no small ordeal. Lucky for Joe, our staff at All Occasion Tent Rental has helped to plan numerous weddings and knew exactly what he needed.
After discussing the options, here's what Joe decided:
Joe opted for 200 of our White Resin Padded Chairs for the ceremony, and then ordered an additional 200 White Allyfold Chairs for the reception. It was important to Joe that guests would not be required to move chairs from one location to another during the event.
For the reception, a 40'x100' white wedding pole tent allowed for everyone to have plenty of room at their tables, along with some additional space for mingling, along with a 20'x20' dance floor to keep the party going. 25 of the 5' round tables provided adequate seating, and 10 of the 8' banquet tables were used for the buffet, catering team, and gifts.
In addition, All Occasion was able to help Joe order tablecloths and napkins, as well as connect him with a local company to provide rental dinnerware.
With the help of All Occasion Tent Rental, Joe was able to plan the wedding his wife had dreamed of for years, in the short span of only two months.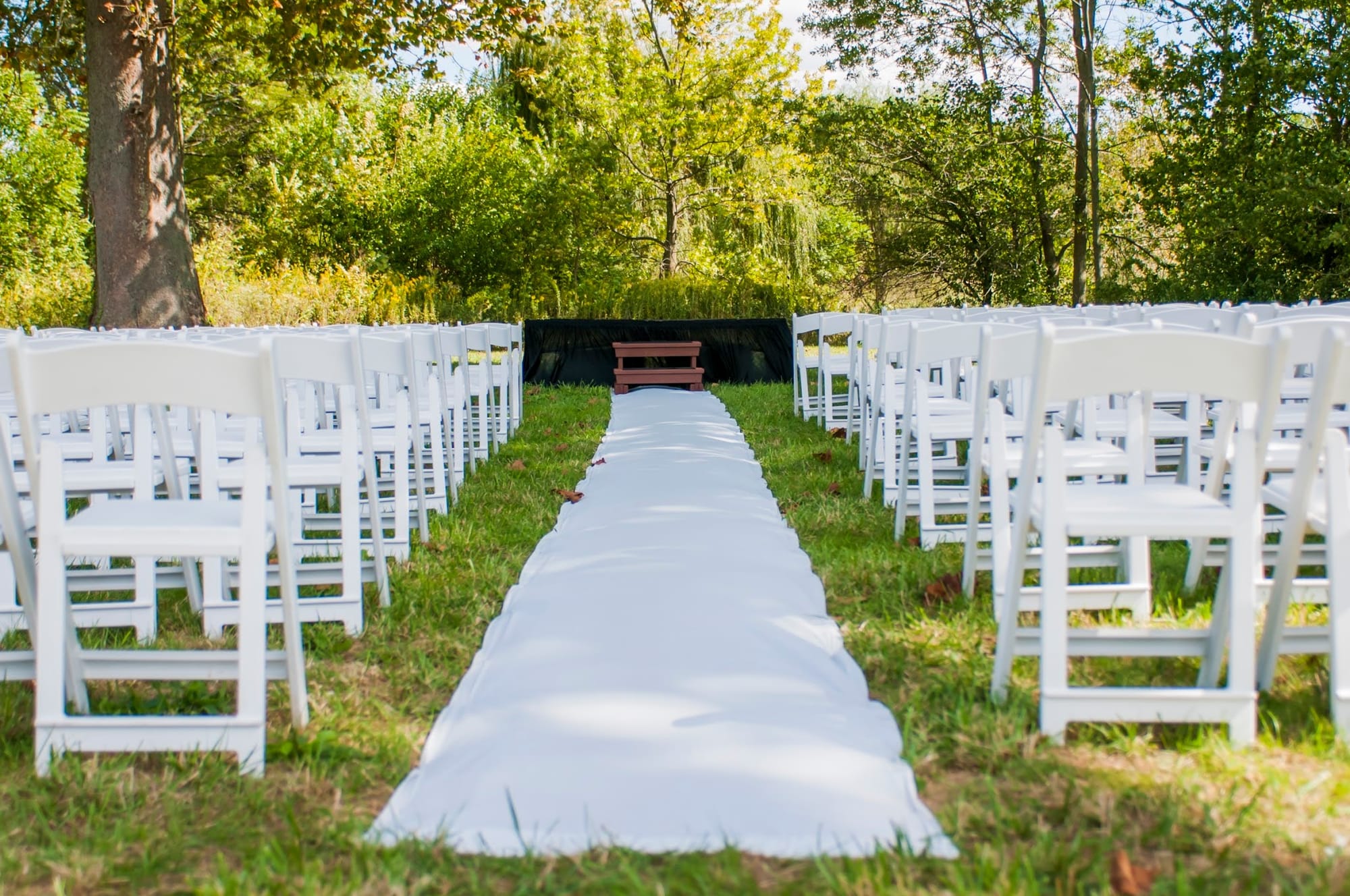 A few tips when planning your tent wedding or reception:
Always order more tables and chairs than the number of guests you are expecting. It's embarrassing if people arrive at an event and don't have a place to sit, or have to split up their family to take advantage of remaining seats.


Consider having a second, adjoining tent for catering or food preparation. Caterers appreciate having a place that is out of site of guests to prep food, and guest won't be distracted during the special moments of your event.


Plan in advance! Joe lucked out and we happened to have a white wedding tent available for his big day. With most people planning months or even years in advance, it's best to reserve your tent well in advance to make sure we have one available for you.
Need help planning an outdoor wedding or reception? Check out our Wedding Packages for a quick overview of some of the options. We're always happy to customize your setup, so contact us to discuss your dream wedding.